Fort Collins Divorce Mediation
At Mitch Tacy Family Law Attorney & Mediator we are in the unique position of being able to combine a legal practice with training as a mediator to offer Fort Collins, Loveland and Greeley clients the benefit of completing the entire divorce process with just one person. Only after practicing as a divorce attorney for many years, did Mitch add mediation services to the practice. We believe that mediation is by far the best way to complete the divorce process both financially and emotionally for everyone involved, especially if you have kids. After reading this page you should have a good idea if mediation is the right choice for you and your spouse. When searching for the best divorce mediator in Fort Collins be sure to talk to the mediator and make sure that you and your spouse are comfortable with their style of communicating. Your mediator should also be experienced in family law outcomes where your case would be heard-Larimer County or Weld County District Court.
WHAT IS DIVORCE MEDIATION IN FORT COLLINS CO?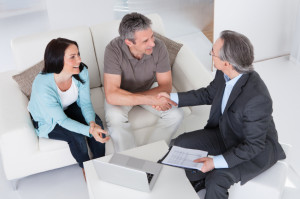 Divorce Mediation is the most amicable, cost effective, and sensible way to get a Colorado divorce. In a mediated divorce, couples agree to work together – within a non-adversarial environment and with the support, assistance, and guidance of a neutral attorney/mediator (experienced in family law matters) – to reach a full, fair, and comprehensive agreement on all issues. Mediation can be done before any paperwork is filed with the Court or while the divorce process is pending.
At Mitch Tacy Family Law Attorney & Mediator we recommend you explore whether or not you are a candidate for Fort Collins Divorce Mediation before you both hire attorneys.  For more information on the divorce process in Colorado, Click Here.
IS DIVORCE MEDIATION THE "RIGHT PROCESS" FOR US?
Are you looking for an friendly, cooperative, and non-adversarial Colorado divorce process that identifies and encourages win-win solutions?
Are you interested in making smart, informed, non-emotional divorce decisions with the assistance and support of an experienced family law attorney?
Do you want to save money by minimizing attorney fees and litigation costs?
Do you want to avoid a lengthy and time consuming divorce process?
Do you want to keep your divorce private and confidential?
Do you want control of your divorce decisions?  Do you want to avoid having outside, third parties (judicial officers, Judges, and/or attorneys) directing and dictating the terms of your divorce and parenting schedule?
If you answered "yes" to any of these questions, then Divorce Mediation may the right solution for you and your spouse.
HOW LONG WILL MEDIATION TAKE?
The number and duration of mediation sessions will depend upon the complexity of your divorce and each party's level of cooperation. We will establish an agreed upon schedule prior to starting the process. Divorce mediation will save time. If parties start mediation prior to or when their divorce action is filed with the Court, parties can complete their mediation, along with all Court mandated paperwork, and obtain a decree of dissolution within the minimum time limits imposed upon the divorce process. Colorado law imposes a 90 day requirement of time which must pass between the filing all of your divorce documentation and the Court's issuance of a decree.
Unlike litigation, mediation completion is not determined or delayed by the scheduling constraints of third parties, including but not limited to attorney(s), opposing counsel, Court facilitators, judicial staff, and/or Judges. Successful mediation means that you can avoid multiple case management conferences, judicial status conferences, hearings, and Court appearances.
For mediation clients with hectic work and travel schedules and/or with parenting obligations, mediation can be scheduled on evenings and/or weekends to accommodate these challenges.
Mitch Tacy Family Law Attorney & Mediator
155 E. Boardwalk Drive, Suite 464, Fort Collins, CO  80525
1635 Foxtrail Drive, Suite 356, Loveland, CO  80538
www.tacylaw.com